Infusionsoft Payment eCheck & ACH Solutions for all Business Types
Home

→

Infusionsoft Payments eCheck
"Infusionsoft" eCheck Payment Solutions
---
Gone are the days of waiting days for your funds. Sell Today & Get Paid Today. (We own both SameDayEcheck.com & SameDayACH.com). Companies, like yours, are demanding more functionality and better results from their payment systems and we have designed, manufactured and aggregated to create unforgettable experiences. Our passion is helping design and build solutions that strike the perfect balance between business, their customers and technology.

Today Payments Gateway Merchant Services
...continues to meet the challenge of our clients by offering cost effective payment processing with all major gateways and processors, Credit card, Debit card, ACH and e-check payment processing services are now available to you and your clients.
The Best Solution for eCheck & ACH Payment Processing in QuickBooks®
Today Payments is an Authorized Reseller of Intuit offering a highly robust app that supports both QuickBooks' desktop and online customers, provide merchants with the tools they need so they can focus more time on their customers and businesses, and less time on data entry.
"Our Integrated payment solutions can save a typical small business owner more than 180 hours each year"
---
ACH format definitions Our software is designed for simplicity and ease-of-use.
---
Accepted Payments
Email Invoicing - Credit/Debit Cards, eCheck & ACH

Retail - Free Credit Card Swiper

Mobile - Free Smart Phone Swiper

MOTO - Mail Order & Telephone Order
Recurring Debits & Credits
One-Time Debits & Credits
High Risk Processing
eCommerce - From your Website
ACH & Electronic Check
ACH Check-by-Phone
Recurring ACH Debits & Credits
One-Time ACH Debits & Credits
High Risk ACH Processing
Online ACH from your Website
Electronic Check - Never leave your office to Deposit Checks!
---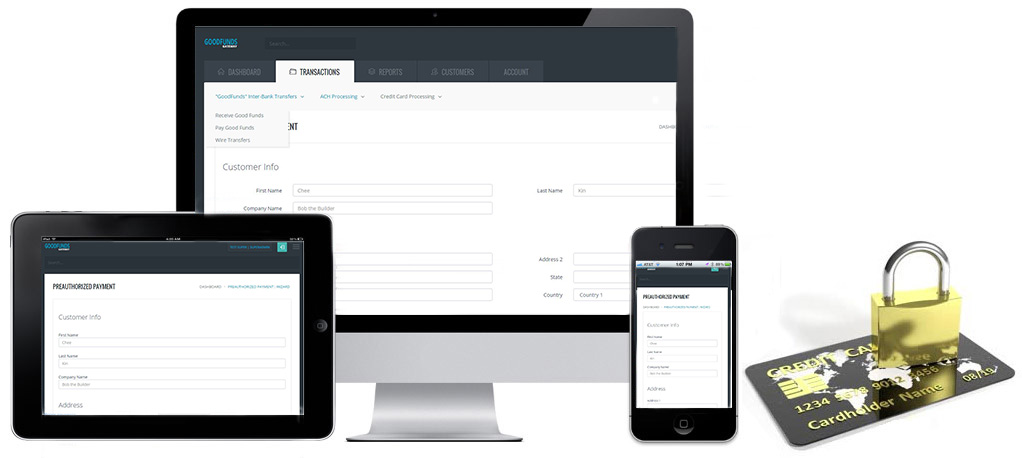 Process your Infusionsoft Payments anywhere - anyway
---
We will get you approved to accept Credit Cards, Debit Cards, ACH and Electronic Checks. We can recommend a payment gateway for you or choose your favorite from the list below. You have many options for integrating your payment processing into Infusionsoft:
Payment Gateway Options
| Company | Available Countries |
| --- | --- |
| Easy Pay Direct | US, Canada, EU, UK, Mexico, AU, Panama, Malaysia |
| Beanstream | US, Canada |
| Internet Secure (Authorize Emulation) | US, Canada, Possibly more (contact the vendor) |
| DPS (Payment Express) | Australia, New Zealand, Pacific Islands, Singapore, South Africa, UK, US |
| Network Merchants (NMI) | US only |
| PayPal Payflow Pro | Contact us at (619) 450-5800 for details. |
| Authorize.net | US, Canada, Possibly more (contact the vendor) |
| SagePay | UK (Maestro Card Accepted) |
| USA ePay | US only |
| eWAY | Australia |
---
---
Compare Today Payments with PayPal

PayPal

Types of Payments Accepted
Email Invoicing

Auto-recurring billing

Credit Cards

Credit Cards - Level III

ACH - Electronic Check

Paper Check Conversion

Virtual Terminal for Mail-Order & Telephone Order Payments
- includes Online Reporting of
ALL transactions processed

Credit Card Pricing
Monthly Processing Costs
if you bill $5,000

$ 151.50 1

$ 175 2

Monthly Processing Costs
if you bill $10,000
The more you bill, the more ReceivePay saves you!

$ 284 3

$ 350 4

Application Fee

$ 0

$ 0

Annual Fee

$ 0

$ 0

Cancellation Fee

$ 0

$ 0

Credit Card Fees

2.15%

2.90%

Transaction fee

28¢

30¢

Monthly fee

$ 19

$ 0

Same-Day Deposit of Funds

3 Days

ACH & Electronic Check Conversion Pricing
ACH Transaction fee

1% + 28¢

Returned (NSF) ACH Transaction fee

$.50

Paper Check Conversion 1
"Stop driving to the bank"

28¢

Recurring Billing - Credit Cards
Auto-recurring billing


Recurring eCheck & ACH also available!

Push notifications of expirations, cancellations, upcoming payments, and recurring payments

Pre-configured recurring plans

Processing Capabilities
Virtual Terminal Available


Included - FREE

Mail Order & Telephone Order

Keep Consumers on Invoice while paying

3rd Party Gateway "Re-direct"
"Pay Invoice Button" - Collect payments on merchant's web site

Ecommerce - Web site Order

Multi-Currencies
1 Typical merchant $5,000 in credit card processing with 100 customers = ($5000*2.25%)+(100*$.20)+$19 monthly fee (Non-Qualified rate of only .20% over interchange)
2 Typical merchant $5,000 in credit card processing with 100 customers = ($5000*2.90%)+(100*$.30)+$0 monthly fee
3 Typical merchant $10,000 in credit card processing with 200 customers = ($10000*2.25%)+(200*$.20)+$19 monthly fee (Non-Qualified rate of only .20% over interchange)
4 Typical merchant $10,000 in credit card processing with 200 customers = ($10000*2.90%)+(200*$.30)+$0 monthly fee

---