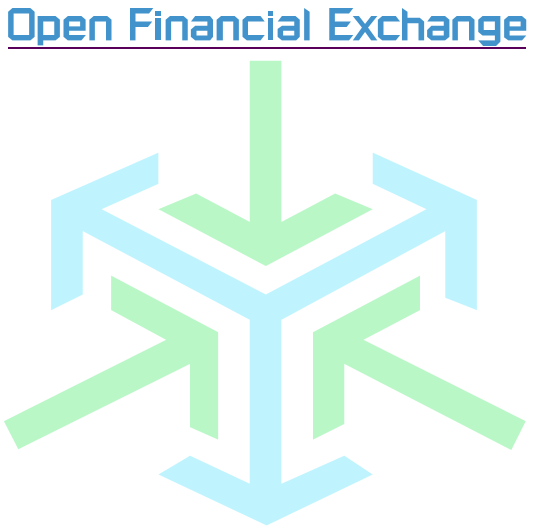 Open Financial eXchange is a broad-based framework for exchanging financial data and instructions between customers and their financial institutions. Direct Connect Online Banking API - Application Programming Interfaces, Account Information Service Providers - AISP Services, Used by Data Aggregators.
Microsoft, Intuit, and CheckFree developed the original OFX specification in 1997 using SGML syntax. The current, released in 2016, uses a more widely accepted data-formatting standard like XML, uses HTTP standard for client-server communication and adds support for OAuth token-based authentication model. Currently more than 7,000 banks, brokerages and personal finance management companies use OFX in some form.
OFX bypasses the traditional ACH model. OFX, or Open Financial eXchange, is a unified specification for the electronic exchange of financial data among financial institutions, businesses and consumers via the Internet.
Secure Open Financial eXchange provides a framework for building secure online financial services. In Open Financial eXchange, security encompasses authentication of the parties involved, as well as secrecy and integrity of the information being exchanged.
Robust Open Financial eXchange is used for executing important financial transactions and for communicating important financial information.
---
Broad Range of Financial Activities – Open Financial eXchange provides support for a broad range of financial activities. Open Financial eXchange 2.2 specifies the following services:
~ Bank statement download
~ Credit card statement download
~ Funds transfers including recurring transfers
~ Loan statement download
~ Consumer payments, including recurring payments
~ Business payments, including recurring payments
~ Brokerage and mutual fund statement download
~ Bill presentment and payment
~ Tax form download, including 1095, 1098, 1099, and W2
~ Image download for banking, credit cards, investments and loans
~ Automatic 1-Way OFX
~ Instant Payment Services
~ Real-Time Payments
~ Open Banking

---
Domestic & International (Cross-Border)
Broad Range of Financial Institutions – Open Financial eXchange supports communication with a broad range of financial institutions (FIs), including:
With our Bank Transfers credit payment processing, financial transactions between you and your customers are instantly verifiable, hassle-free and secure. Reporting is streamlined, instantaneous and user-friendly.
Open Financial eXchange at a Glance
The design of Open Financial eXchange is as a client and server system. An end-user uses a client application to communicate with a server at a financial institution. The form of communication is requests from the client to the server and responses from the server back to the client.
Open Financial eXchange uses the Internet Protocol (IP) suite to provide the communication channel between a client and a server. IP protocols are the foundation of the public Internet and a private network can also use them.
Based on their resources and business needs, financial institutions and businesses can choose to deploy either the OFX Web Connect or Express Web Connect which allows for Automatic 1-Way OFX download integration or OFX Direct Connect (where both Data & Dollars flow) full 2-way OFX server. Both the OFX Web Connect or Express Web Connect Automatic (1-Way OFX) specification enables seamless downloading of account statements from a financial institution site into personal finance software, such as Microsoft® Money and Intuit's Quicken® and QuickBooks®, or account aggregation software offered at many financial institution sites, providing consumers with a more complete picture of their finances. OFX Direct Connect (Full 2-way OFX) allows, in addition to statement downloads, payment transmission, money transfers and e-mail exchange between financial institutions and their customers.
Banks working with the OFX Platform is one of the most effective ways to collaborate with Fintechs to have an Open Banking platform. Open Application Programming Interfaces (APIs) providing access to bank's internal systems form the technical backbone on which open banking platform is built. Open APIs can act as enablers for banks to created a digital ecosystem via interfaces with third parties. Using open APIs banks can greatly extend their value proposition in payments by having customized new products and services. It's heartening to note that this is already happening to an extent as several banks are opening access to their code to payment processors and technology companies via open APIs.
Our in-house Bank Transfers experts are standing ready to help you make an informed decision to move your company's payment processing forward.
OFX Consulting & Integration
Remember, we offer several products that work with your Credit Card, ACH, Payment Order, Wires or Electronic Check Processing system. Whether you process dozens of transactions a day or hundreds, we have the right payment processing software for you! Give us a call or complete the information request form above.
We provide Bank Transfers, ACH and Credit Card Processing all integrated into QuickBooks software!
QuickBooks Integrated Solutions
Direct Connect to over 8,000 Banks
OFX Cleaner
Excel to OFX Converter
QIF to OFX Converter
Convert OFX to QBO: QuickBooks Online
QuickBooks OFX Consulting