Agent, ISO, Third Party Payment Processor and Bank programs

We are always looking for partner organizations who can benefit from a direct relationship with a dynamic end-to-end ACH and Real-Time Payments Processor.

Today Payments is an independent processor and we provide our processing services primarily though our reselling partners. We work with all merchant types, assisting them provide flexible and efficient ACH-related payment solutions for their customers.


"Owning both Same-DayACH.com and Real-TimePayments.com, with all the benefits, bells and whistles allows us provide our Agents and ISOs dependable payment solutions that merchants are demanding."

Leigh Cook, CEO for award winning Today Payments, Inc.
Why
TodayPayments.com?
Branded Solutions for Agents
Branded Solutions for ISOs
Branded Solutions for Banks & Credit Unions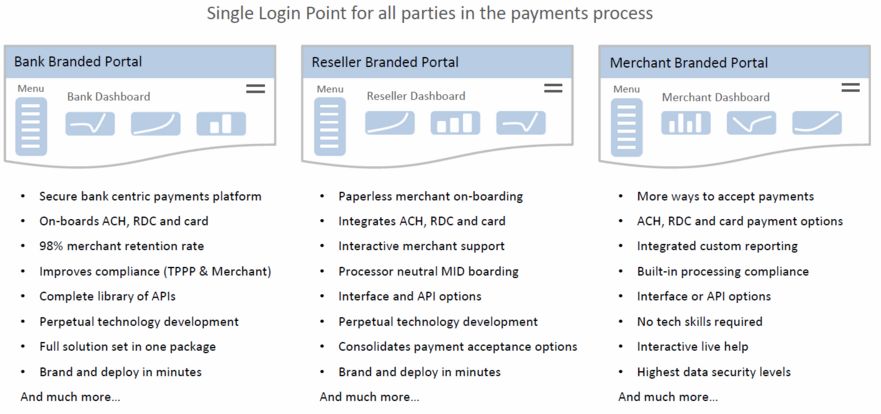 Have existing MIDs? Load them on our platform... add ACH, Real-Time Payments & RDC... Increase your income!
AUTHORIZE.NET
BLUEPAY
Elavon - Converge
FIRST DATA
Global
Heartland
TSYS
Vantiv
Partner with
TodayPayments.com
As our partner, if you bring the sales performance; we provide the technology and bank (ODFI) access which gives you the most seamless credit card, Real-Time and ACH solutions on the market today. The experience for you, your merchants and their customers becomes cohesive. We make it easy for you to resell ACH and Electronic Check payment processing, with your own branded version of this award-winning payments platform. We offer multi-level white label options along with everything needed to easily deliver and manage the low cost, feature-packed Card, Real-Time, ACH and RDC payment solutions for your merchants. Your version of our platform becomes a sub-domain of your web site. Administration tools include registration approval, risk management, limit controls, termination which the bank and approved partners can manage via an intuitive interface. Also included is a full library of APIs which gives the bank, and all associated partners, a more open and versatile building block approach when providing payment process automation.
One platform for banks, payment solution resellers, merchants, and their customers





You can provide your merchants with one or all of the following payment options: online forms, mobile, email, virtual terminal, 800# by phone (IVR), shopping cart checkout, emulation and EBPP for enterprise or SMB merchants.

Online Forms

---

Rapidly create payment forms
Add fields for custom forms
Two payment page options
Emails customer receipts
No technical skills required
Simplify online payments

Mobile App

---

Use iOS & Android devices
Add custom fields
GPS to retrieve amount due
'look-up' retrieves amount due
Add custom fields to reporting
Emails customer receipts

Check Out

---

Use your preferred shopping cart
Easy Authorize.Net emulation
Credit card and ACH payments
Secure payments (EV 256 SSL)
Manage orders, tax, and shipping
Manages PCI & NACHA compliance

Virtual Terminal

---

Create custom virtual terminals
Connected to your contact list
Plug-Ins for Swipe, Pin & Signature
Optional grace period
Reports include custom fields
Emails customer receipts

Accept Email Payments

---

Unlimited email templates
Send one or thousands at a time
Integrate or import A/R data
Supports virtual file attachments
One-time or recurring payments
Emails customer receipts

Send Email Payments

---

Add profile to create a payee
Customize payee email message
Creates approved 'check on file'
Reports EFT or mailed payments
Mailed checks include a QR code
QR links to check validation page

IVR Payments

---

Sets up in minutes
No equipment required
Easy for customers
Accept credit card & ACH
Open 24/7/365
Toll Free Number

Remote Deposit Capture (RDC)

---

Desktop and mobile capture with automated payment posting saves hours weekly
Advanced image and character capture and entry makes no client data input required
Returns come back into automated recovery or collection in as little as 48 hours
Dramatically reduces returned check fees and recovers funds faster
Deposit and returned item reconciliation is greatly simplified
Real-time split pay and flexible import file fit most vertical and accounting software

Payment Processing in QuickBooks

---

QuickBooks Hosted Online

QuickBooks Enterprise

QuickBooks Pro

QuickBooks Premier

QuickBooks POS